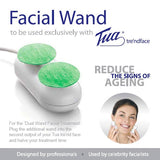 Tua Tre'nd Second Wand .
Add this second wand to Tua Tre'nd (sold with one wand as standard). And use the two wands simultaneously to cut your treatment time in half.
Customer Reviews
11/09/2022
Lisa H.

United Kingdom
I would never be without my tuna trend.
I have used my tua trend religiously for a lot of years and I would never not want to use it. My actual machine is looking tired so I worry when it will not work. I bought a second wand as my last one came apart. I am 54 and no one believes me and it's the tua that is what has helped. It's also my time when I'm using it. It gives me time on my own to be with my thoughts, usually early in the morning. I do programs many more times than once so you could say it's one of my hobbies taking care of my skin.
21/04/2022
Natasha W.

United Kingdom
Tua Trend replacement wand
I have had my Tua Trend for a number of years but the wand recently stopped working so purchased this which is now working perfectly.
20/04/2021
Barbara L.

United Kingdom
Very good noticable difference by
22/12/2020
Jane A.

United Kingdom
Great Facial Lift
Love using this system, you can really see the difference...almost immediately, it allows you concentrate on any problem areas and the effect keeps going
23/04/2020
Paula N.

United Kingdom
Facial wand.
Always a good experience. I'm very happy with my purchase. I have purchased in the past and always had good customer satisfaction. Many thanks. Paula.