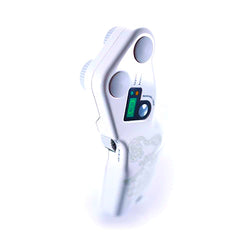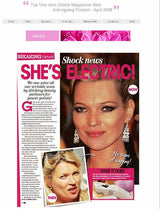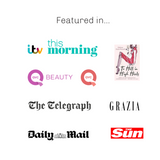 Tua Viso Facial Toner.
Tua Viso lifts, tones, sculpts, reduces wrinkles and prevents sagging by targeting the less-used muscle fibres of the face. Your unique facial contours will gradually re-appear just like when you were years younger. 


Tua Viso scores 10/10 in an independent test by the This Morning program.
Plumps up your facial muscles, giving your face the crucial substance, structure and support it needs to maintain its youthful appearance Lifts the hoods from your eyes so you look fully alert and sparkling with energy

Stimulates collagen and elastin synthesis, so that your skin becomes thicker, more robust and smoother

Increases lymph drainage, which helps to eliminate under eye bags

Gives you dewy and radiant complexion, due to the increased oxygenation, nutrition and detoxification of your skin

Is proven to work, by advanced independent clinical research

Is so easy to use that excellent results can really be achieved (say goodbye to gels, lotions, sticky pads, wires or metal on skin discomfort

Saves you a fortune in cosmetic surgery and expensive creams

1 year warranty

100% satisfaction guaranteed
Tua Viso resembles a cordless telephone in shape and features two electrodes that work neatly and simply with soft, changeable sponges and water from your own tap.
The practical design of Tua Viso makes it easy to hold, keeping the regulator wheel under constant control with your thumb or forefinger, and positioning the electrodes on any part of the face without effort.
Tua Viso can be taken anywhere. Its compact dimensions, light weight, battery power and illuminated panel enable easy use anywhere and in any situation - even in the dark! You can use it while you're relaxing about watching your favorite television program, or curled up in bed reading a book. Since you can easily manage Tua Viso with one hand, you can even use it while doing chores around the house or checking your email.
Consistency of use is the key to you achieving and maintaining dramatic lift and tone, made all the more straightforward by Tua Viso's ergonomic design.
Tua Viso Research 
Tua Viso has been subjected to stringent scientific testing and medical research.
An independent clinical trial conducted at Bologna University, has shown visible facial lift and redefinition after 10 days of use with Tua Viso.
Tua Viso has been designed using cutting-edge computerised systems and sophisticated laboratory instruments for measuring and control.
Tua Viso has numerous Industrial Invention Patents and complies with the most stringent international standards and quality controls (UNI-EN-ISO 9001 and UNI-EN-ISO 13485). Tua Viso is also certified in accordance with European Directive 93/42/EEC on Medical Devices.
Tua Viso non-surgical facelift (micro-current facial muscle exerciser)

Rechargeable battery, already fitted for use

Charging unit with UK plug

Water dispensing bottle

Spare sponge kit

How to use handbook

Quick reference mini-handbook

Stylish leather case

Demo video or DVD (showing recommended application points and facilitating correct use of the unit)
Battery
Tua Viso is safe. It is powered by a rechargeable battery, which comes with the unit already fitted. The battery is held in a special compartment and easy to replace. A yellow LED indicator on top of the Tua Viso unit shows when it is time to change the battery. You need to charge the battery for 9 hours before you first use your Tua Viso.
Over the years the muscles of the face shrink and slacken especially at the level of less used muscle fibres. Since many deep muscle layers are closely linked to more superficial ones, which in turn are in direct contact with the skin, even intuitively, it is easy to imagine that changes in any of these elements will have evident effects on the face; sagging effects, that we associate so closely with aging and do not want.
Regular use of Tua Viso results in restored volume and density of the supporting facial muscles – like when you were in your 20's. Most fundamentally, the ingenious sine wave technology of Tua Viso works at the level of the less-used muscle fibres, strengthening them, shortening their length and plumping them up in volume. This results in toned tightened muscles that lift into the original young position. Under eye bags go, creating smooth lifted under eye areas. Jowls, cheeks and brows lift giving a pert facial contour. The skin consequently, lifts and tightens, giving youthful smooth skin. The face lifts back into the youthful position.
And regular use of Tua Viso stimulates collagen and elastin production because skin metabolism is being facilitated. Wrinkles diminish, even disappear and future wrinkle formation is subsequently prevented. Additionally, Tua Viso increases the oxygenation, nutrition and detoxification of the tissues, so skin texture also improves – becoming more 'dewy'. And lymph drainage from the face is increased eliminating under eye puffiness. The Tua Viso device can be used from your mid 20's for prevention of wrinkles sagging and under eye bags.
Tua Viso does not involve messing about with wires, sticky self-adhesive pads or conductive gels/lotions. Nor is there any risk whatsoever of metal-on-skin shocks or jarring. Clinically approved, it gives amazing lift results with just water from your tap and a clean face.
Tua Viso Electrostimulation
The extremely advanced miniaturized electronic circuitry of Tua Viso generates trains of modulated sinusoidal wave pulses which are specific for delicate facial muscles and indicated by a green LED. Thanks to their particular form and frequency, these waves induce precise muscular exercises, in complete comfort even at high intensity and with extremely evident movements.
Tua Viso exploits a high-frequency sinusoidal wave current (7500 Hz), which produces a very valid muscle contraction before any unpleasant sensation is felt. This way, the stimulation is both effective and very pleasant at the same time.
The intensity of the impulse produced is adjustable so either very delicate or very intense contractions can be obtained: such contractions are clearly visible and will guide you during operation. What is more, the contraction rhythm (3-second muscle contractions with equally long intervals) has been studied and fine tuned to ensure that facial muscles are toned up as quickly as possible. Clinical studies show that facial muscle increases in volume after about ten sessions of Tua Viso electrostimulation; each session lasting only a few minutes.
The patented electrodes are fundamentally important, since it via the electrodes that the sine wave impulses reach the skin, and consequently the facial muscles. Tua Viso has special advanced patented VP BOX electrodes. These original and unique spring-loaded domes covered in soft sponge, enable practical positioning on any area of the face and delicate contact with the skin; moreover, their operation with water enables immediate use, as there is no need to use any special conductive gels or lotions. Nor for that matter is there any risk of metal on skin discomfort.
The VP BOX electrodes are self-moistening and also have their own reservoir containing enough water for a complete treatment session; this avoids having to repeatedly wet the sponge domes; to wet them, just press. The extractable bayonet-fit rings enable fast replacement of the sponge domes and easy cleaning of the water reservoir
Customer Reviews
25/08/2022
Siobhan W.

Ireland
Brilliant
Bought this as an investment for myself and it is totally worth it. I'm 32 and main concerns being baggy puffy eyes and of course the forehead wrinkles. Even if I don't do my full face everyday I will always do my cheeks (for under eye area) which really reduces the puffiness of my baggy eyes straight away. I enjoy using this tool every morning. It's compact and fits great in your hand when using. I have even brought it with me on holidays. I'm at pulse strength 4 and you definitely feel it! It goes up to 10. Customer service is also great.
15/07/2022
Inga

Netherlands
It really does work but you have to give it a little time as well!!!!
I remember when I first bought the Tua Viso. It was when it came out the first time. I think I bought it around 15 years ago. or maybe even 20 years ago I am not sure. I used it for 3 months straight and the difference was shocking. I had my face back. I really did. My cheeks got rounder and lifted my whole face up. Everything was more tout, I also started with some facial gym. After that, I used it on and off, and recently at my 51, I started again when I noticed jowls are coming back in. I am not English so hope you understand this review. I still think this is the best facial machine out there. It's strong and you can adjust the contraction. I am about 2 weeks in and I start noticing smoother skin and more nicer and a little firmer. If I keep this up my jowls will be gone again, but you have to just do it and fit it into your routine. The results will be amazing. I also notice that if you stop using it for a couple of months the moment you start over it goes quicker. The muscles remember the training. same as with a workout. I never write reviews because nothing works. face creams are nice and I do use good hyaluronic acid and vita c and sometimes some retinol but nothing will get you your toned face back as with a good device and use it every day for 15 minutes or so. I even place it on my upper eyelids on the 1 stand. It helps with hooded eyes. I also slide it over my face as well. I make it wet before that. ( I have the original one so I do not have the Tua trend) I hope this helps. You have to stimulate the muscles and then later the elastin and collagen will get produced again and come back more into the face again. therefore try it at least for 3 months! :-) Thats it girls.!! ( after about a week or 10 days you do already start to see minor results and then keep going. You will be so happy that you did. The texture of your skin improves as well. more smoother.
27/04/2021
Claudia

Germany
nothing is better than this
Hi everyone, this is my second machine, the first one i bought it around year 2008, and now, after it gave up its ghost, i bought the second one. This machine is the best you can do to keep the muscles of your face tighten. I started at 30, now i am 53, my first machine was while i was living in the US, it had the same purpose, just another brand. I do not know how would i look like if i haven't had the chance to know that such a thing existed ! I do recommend this device to everyone from 30 years old, believe me, you won't regret it. !
14/04/2021
IAIN A.

United Kingdom
Tua products
I've been using Tua trend and Tus viso since my late 30s, I turn 60 this year and most of my friends consider i haven't aged since my 30s , I am completely happy to endorse Tua viso and trend , thank you
06/10/2020
Yvonne J.

United Kingdom
'Tua Viso
I love it. This is my second one as my previous I'd had for thirteen years and it has run out of steam, so to speak.